The floor is an element of the house that rests impassively under our feet but that plays a decisive role in the environment, being able to take away or bring light, style and spaciousness to the house, so when building or remodelling your choice should be careful and well thought out since each space deserves a suitable floor and currently on the market there is a great variety because the offers have been enormously expanded.
There are no longer only traditional ceramics, porcelain tiles, granites and cement with their laborious installation works.
The current trend is to cover the floors with large formats in imitation of marble, smooth, and wood, and today you can find high-quality options and practical installation that can be placed on top of the pre-existing floor, without having to have to lift it. Such is the case with laminate floors and vinyl floors.
And since choosing the type of floors for the home is a matter of the need for a certain area, tastes and personal preferences according to the style and budget available, it is always advisable to consult an interior decorator before making the final decision. let us take a look at each of these options in laminate and vinyl floors in detail, their characteristics and advantages, as well as the differences between them to know which one best suits the space under construction, or which you are simply renovating the house.
Laminate flooring
A laminate floor is a floating floor made up of several layers of compressed wooden lamellae, covered in the closure with a synthetic compound that, in simple words, is a kind of digital photograph of printed wood, that is, it looks like wood but is not. Some versions imitate tiles, brick and photographs. Laminate flooring is available in tiles and planks whose buoyancy derives from its installation technique, since it can be placed on top of the existing floor, without the need to lift it. Another of the most common varieties of floating floors is that of lacquered natural wood, but this time we are referring to melamine also called laminates.
Vinyl flooring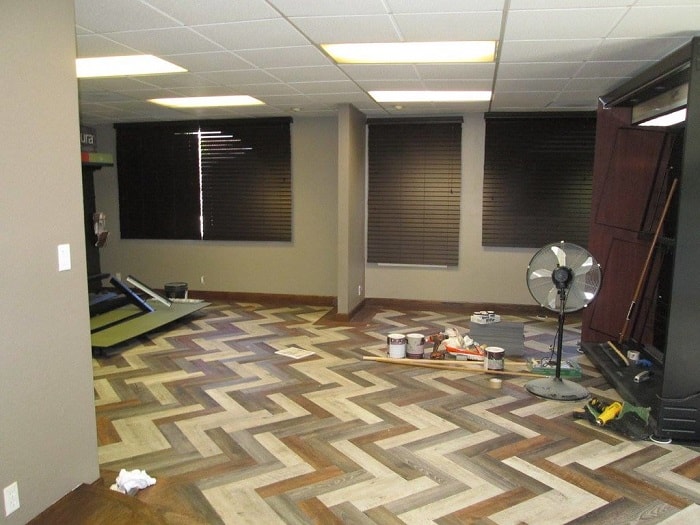 Vinyl flooring is considered the most versatile plastic derived product. It is made of polyvinyl chloride (PVC) hence it is also known as PVC flooring. It consists of a resin augmented with fillers, colourants, textures, plastic and stabilizers. This coating comes in various forms and is easy to replace and apply over other coatings. It is a thermal and electrical insulator, which is characterized mainly by its high resistance to traffic, does not scratch and is also resistant to humidity.
As already mentioned, laminate floors are made by compressing wood fibres and heat-hardened melamine resin. This coating is patterned to mimic wood and natural stone, sealing a layer of patterned paper to the base materials, and finally coated with a transparent polymer. The installation of these laminate floors that are presented in tiles and planks is done with a "click" type assembly system that enjoys high levels of reliability.
Vinyl flooring is made of resin-based PVC plastic covered by a layer of rubber, textured and coloured to recreate varied designs ranging from floral prints to geometric patterns, imitations of marble, stone, wood, majolica and tiles. It is found in flexible presentations: roll vinyl; and rigid ones: tiles, sheets, tiles, strips and planks, both types require a special adherent glue for their installation, although there is already some vinyl with click systems.
Benefits of Laminated flooring
Opting for a laminate floor for the home is choosing the ideal type of floor that will provide the warmth of wood, but with less care and maintenance, and a series of benefits, qualities and characteristics that identify it:
Resistance and durability: in addition to providing the warmth and comfort of wood but without much maintenance.
Antistatic property: in quality marks
Various classifications of use: from basic to high traffic.
Wide range of brands and models: which make it possible to find a variety of prices for all budgets.
Wide range of designs: that have become more sophisticated
Click-only installation system: highly reliable
Easy installation and disassembly: same as vinyl
Benefits of Vinyl flooring
A vinyl coating for the floor of the house is to ensure an ideal floor with the qualities of ceramic but with superior installation and comfort characteristics. A vinyl flooring also has many other advantages:
100% waterproof: recommended in areas with greater exposure to humidity.
Good acoustic absorption: especially if a high-density insulating base is placed on it.
Fire-resistant: unlike laminate floors.
Natural antistatic property: which prevents electrical discharges on the pavement.
Easy to cut and work: if cuts are required.
Self-supporting capacity: they support weight and stress without suffering any deterioration.
Ideal for places with high traffic: resistance and durability guaranteed that make it suitable even for commercial use.
Unlimited possibility of designs: that allows imitating any surface
Easy installation and removal
Both laminate and vinyl floors have quality standards in their products that go from the basic level to the higher level, and which determine the variety in the offer in designs, resistance, durability, installation systems and price range.
Premium quality laminates and vinyl have excellent material imitations. And although both materials imitate natural products, normally vinyl does not become as precise as laminate imitating wood for example, but instead offers a wide variety of designs and colour combinations of professional confection inspired by hyper-realistic objects, patterns, textures, various colours and finishes.
An interior design professional will no doubt say that both laminate and vinyl flooring are a great new alternative to flooring. In the market, there is a lot of variety to guarantee a modern and elegant decorative design by floor installers, as well as practical, safe, comfortable and functional according to each lifestyle and each budget, since both styles of flooring have multiple benefits with a plus of originality, style, practicality when it comes to assembly, durability and resistance. So, without a doubt, the best floor is the one that suits the convenience of each particular design.